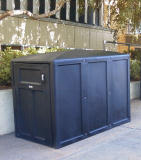 Posted on August 28, 2016 by bikesadmin in Resources.

To improve bicycle security, the Transportation Alternatives Program (TAP) offers UCSB students, faculty and staff the opportunity to rent a bicycle locker in one of seven convenient campus locations. To qualify for a locker, you must: Live more than two miles from campus NOT own a UCSB parking permit (Night & Weekend permits excepted) Use […]

Continue Reading... No Comments.